SATO PAS NX Print & Apply
A compact Label Print and Apply system designed for automatic printing and easy integration in a production line. The printer used is a SATO CL4NX series with 200,300 or 600dpi. The printer works with many programming languages like ZPL, DPL, IPL and TPL. The printer is diagnosed easily with the messaging system on the printer's panel where the user can see errors on a monitor and correct those.
This system can print and apply labels from 60 x 80mm up to 120 x 120 in application rates up to 25 labels per minute depending on the resolution, the label size and label materials.
A robust system for maximum performance and rehabilitee. The tamp allow labelling of products with varying heights. The label is applied with high accuracy on the product. PAS 4 NX is a compact reliable workhorse with a robust design with Festo Pneumatic and modular construction with a simple design.
Cost effectiv
Operator Display
Flexible
I/O's to external system
Maintenance friendly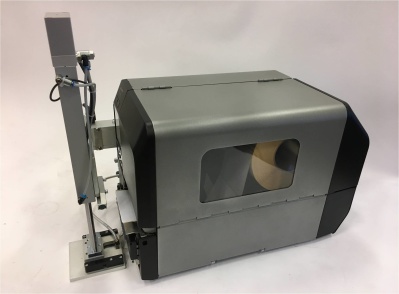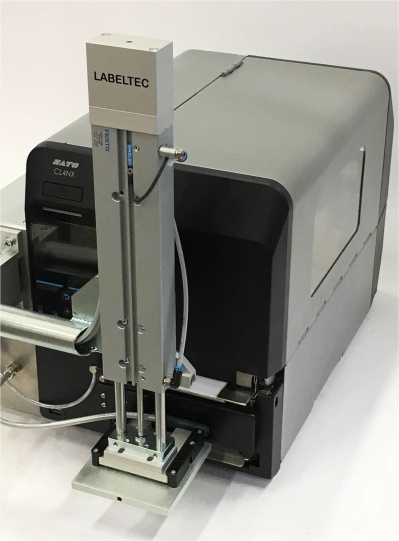 Technical data PAS NX Print and Apply system

Thermal transfer or direct thermal

Printing resolution 12 pixels/mm (300 dpi) 9 pixels/mm (203 dpi) 12 pixels/mm (300 dpi) 24 pixels/mm (600 dpi)
Printing speed Up to 200 mm per second with 300 dpi
Dispensing power Up to 25 labels per minute; the dispensing power depends on the label size, label change, and stroke
Dispensing applicators Linear stroke 100 - 300mm depends on model

Tamp sizes 100 x 100 mm (Other sizes on request)

Label size minimum: 40 x 30 mm maximum: 120 x 160 mm
Label roll Maximum roll diameter 218 mm, roll core 76.2 mm (3 inches), outside winding

Data interfaces 1 x USB (type B), 1 x LAN, Bluetooth, optionally: W-LAN
Programming languages SBPL (Sato) SDPL (Datamax emulation) SZPL (Zebra emulation)
SIPL (Intermec emulation) STPL (Toshiba-TEC emulation)
Position accuracy of the labels applied Standard: up to ± 1.0 mm

Compressed air connection 6 bar, the compressed air must be clean, dry, and free of oil

Weight aprox. 30 kg, depending on the design
Ambient conditions Operating temperature: 10 °C to 35 °C, 15 % to 95 % relative air humidity, non-condensing

Technical changes reserved at any time.